A co-worker pointed this video out to me, from a person at Microsoft research, he starts out by saying the views are his own and do not represent Microsoft.
Cloud comes up at 5:36 into the video. The whole video is good(30min), everything is spot on, and he manages to do it in a very entertaining way.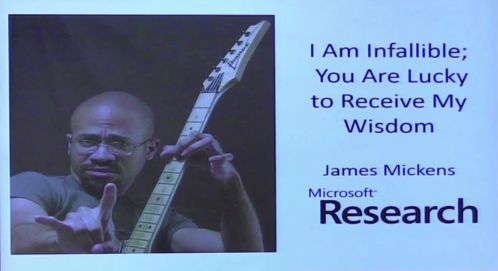 He is very entertaining throughout and does a good job at explaining some of the horrors around cloud services. Myself I still literally suffer from PTSD from the few years I spent with the Amazon cloud. That is not an exaggeration, not a joke, it is real.
Sorry for not having posted recently – I have seen nothing that has gotten me interested enough to post on anything. Tech has been pretty boring. I did attend HOOTERPALOOZA 2014 last night though that was by far the best time I've had in the bay area since I returned to California almost 3 years ago. I will be writing a review of that along with pictures and video soon, will take a day or two to sort through everything.
The above video was so great though I wanted to post it here.