I wrote about this a while back, at the time the topic was AT&T imposing caps on mobile data plans, so won't go into all the same arguments again.
But this time it is AT&T imposing caps on their various broadband plans. I don't know whether to laugh at or feel sorry for some of these people (see the comments on the site) that believe they have a right to maximum performance, unlimited bandwidth for a few bucks a month.
**** YOU and your troll crap. DONT BE MAD BECAUSE IM TELLING THE TRUTH YOU AT&T DRONE. YOU WEEP FOR THE COMPANY WHO HAS MORE MONEY THAN THE U.S TREASURY. GET YOUR HEAD EXAMINED.

IF YOUR CRAPPY DSL IS SLOW IT'S BECAUSE YOUR ISP IS TOO CHEAP TO UPGRADE TO THE NEEDS OF THE WORLD IN 2011!!!!
This post really is funny
If only two percent of people are affected, why do you feel the need to screw the rest of the 98%?!
As a Comcast broadband customer I have a 250GB cap a month. I have no doubt though that I fall far short of the cap, I'd be surprised if I do more than 20GB a month (that is with occasional netflix streaming though these days I can't find anything I want to stream on Netflix, I've watched one or two things in the past month) UPDATE – I forgot Comcast does have a bandwidth meter you can check, so I got my account info and checked it out. I wonder where I stand as far as a percentile of their customers – low usage on average? medium?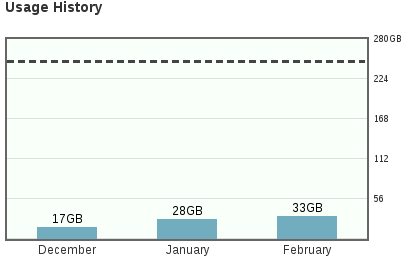 I do run a server as well in the Terremark cloud, so I checked out the bandwidth on it as well (which hosts this blog along with my email services, other web sites etc)
February – 6GB data transfer (I assume they charge on inbound and outbound transfers?)
January – 2GB data transfer
December – 2GB data transfer
The world is built in over subscription, that's a big driver to keeping costs low. Whether it's bandwidth, or phone/mobile call capacity, or even your local grocery store.
I for one think AT&T's plan is very reasonable, they will charge you $10 per 50GB over their limits, $100 for 500GB of data transferred. They will also provide notifications when you hit certain levels of that cap.
The big mistake all of these providers made was of course to offer unlimited plans in the first place.