I've been seeing an increasing number of people (some of whom I at least know of and respect) saying how bad the LinkedIn IPO was yesterday.
A recent one I just came across is from John Dvorak (damn I miss Cranky Geeks), who has a column on the Wall Street Journal site saying how the LinkedIn IPO could ruin the tech sector.
Myself I don't agree that the IPO itself could ruin the tech sector, I think it's just another part of the frenzy in social media, LinkedIn is of course seen as a gateway into one of the leaders in the space and there has been so much hype being built up over the years. It's just a sign as to how rabid some of these people are(the fact that there is a whole second market for this kind of stuff that has opened up is far more concerning to me than the IPO). Whether or not they IPO'd wouldn't of changed that fact.
I just think back to my days at Jobster(closed up shop about two years ago) when they were running rampant on the social media stuff, I couldn't believe my eyes or ears. I knew the days were numbered when the management of the company wouldn't let us remove bad email addresses from our databases (the bad email addresses were causing us to get blacklisted, hampering abilities to do the amount of email traffic to users that we were doing).
We couldn't delete them because it would hurt our user count. I mean oh my god, are you kidding me? These users are not there anymore! Maybe they never were there! They are actually impacting other users by having their emails bounce! I suppose another approach we could of taken was somehow flag the accounts to not email them, but nobody seemed to come up with that idea at the time.
Here is a good video on some of the hot IPOs in the past year (many from China), and how poorly they have done since they debuted. I tell ya, the more I read and learn about stocks and investing the less interested I become in ever participating in it.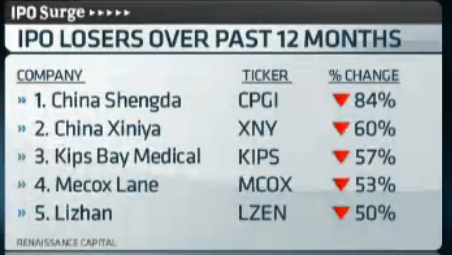 Maybe I'll get lucky and the world will end tomorrow and I won't have to worry about my home grown retirement plan

About this site
Used to be four guys, all former co-workers from a common company. Three of them ran out of time to contribute so it's me. In early October 2010 Scott joined up as well. He too ran out of time to contribute! Back to just me again
Note on Comment SPAM
Hey folks - just a note if you post a comment and it does not get posted immediately, it may be caught by Akismet's anti spam filter, I don't check the spam stuff often(maybe 3 times in the past year), so please email me blog (at) techopsguys.com and I can go check and approve your post. thanks for reading and even more thanks for posting!
Spam Blocked
Follow Nate
Tags
Categories
Archives
Calendar
Blogroll
Misc
Who is Nate
What drives me? Innovation, strategic thinking, and value. Whether it's software, hardware, or even services. I think a lot, analyze a lot, and as you'll quickly see provide information overload on my thoughts.
I do hope you get some useful information from this site. I find it most useful personally to get thoughts out, and when I'm interacting with someone on a topic I wrote about I can direct them here to read my background on it, as sometimes I can't remember every aspect, and providing things in written form make it easier for people to absorb, refer, and reference.
I have a fairly broad background of experience spending significant amounts of time building and supporting servers, storage as well as networking. I wouldn't mark myself as the best of the best in any of those fields but I do gravitate towards products and technologies that allow me to accomplish more with less. I would get bored if I focused in on one area only. Five years ago on a big project the project manager who had a background working at Sun Microsystems, told me people like me at Sun were called Enterprise Architects. That had a nice ring to it and I believe I have grown even more into that role over the years since.