Do you know WordPress? Good because I sure as hell don't.
We need a new theme, can you give us some suggestions? My main complaint about the theme we have now is that it doesn't make effective use of screen real estate for larger resolutions. I mean I feel like I'm stuck in the 90s when viewing our page at 1080p resolutions. Though with a firefox zoom plugin it's more usable, I have to zoom it in 170%., even then there's quite a bit of dead space.
Beyond that just something that is pretty simple I guess? I don't know, none of us are web developers I don't think so we aren't able to customize it or whatever.
I commented in response to an article on The Register recently but figure I'm here writing stuff might as well bring this up to.
Unless you've been living under a rock and/or not reading this site you probably know that AMD launched their Opteron 6100 series CPUs earlier this year. One of the highlights of the design is the ability to support 12 DIMMs of memory per socket, up from the previous eight per socket.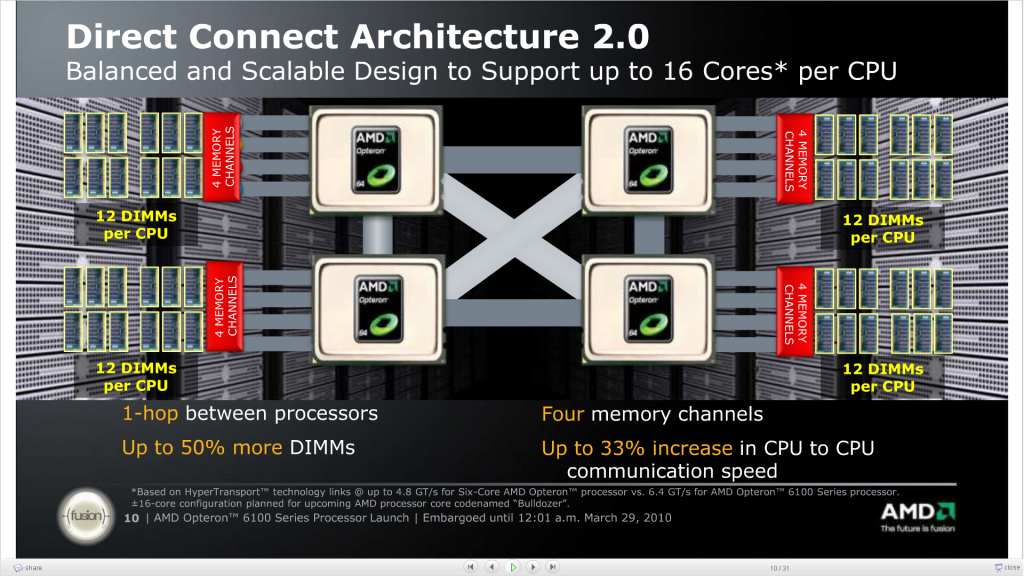 Though of all of the servers that have launched HP seems to have the clear lead in AMD technology, for starters as far as I am aware they are the only ones currently offering Opteron 6100-based blades.
Secondly, I have looked around at the offerings of Dell, IBM, HP, and even Supermicro and Tyan, but as far as I can tell only HP is offering Opteron systems with the full 12 DIMMs/socket support.The only reason I can think of I guess is the other companies have a hard time making a board that can accommodate that many DIMMs, after all it is a lot of memory chips. I'm sure if Sun was still independent they would have a new cutting edge design for the 6100. After all they were the first to launch (as far as I know) a quad socket, 2U AMD system with 32 memory slots nearly three years ago.
The new Barcelona four-socket server comes with dual TCP offloading enabled gigabit NIC cards, redundant power supplies, and 32 DIMM slots for up to 256 GBs of memory capacity  [..] Half the memory and CPU are stacked on top of the other half and this is a rather unusual but innovative design.
Anyways, if your interested in the Opteron 6100, it seems HP is the best bet in town, whether it's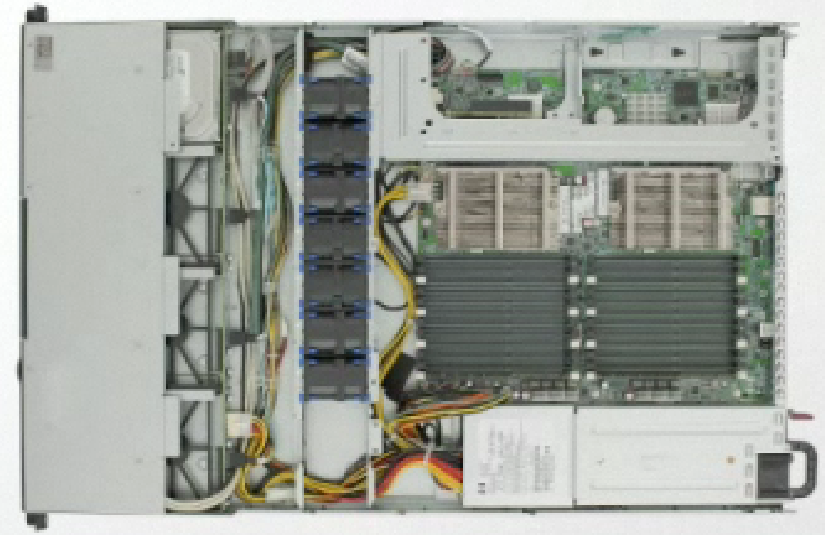 Kind of fuzzy shot of the HP DL165 G7, anyone got a clearer picture?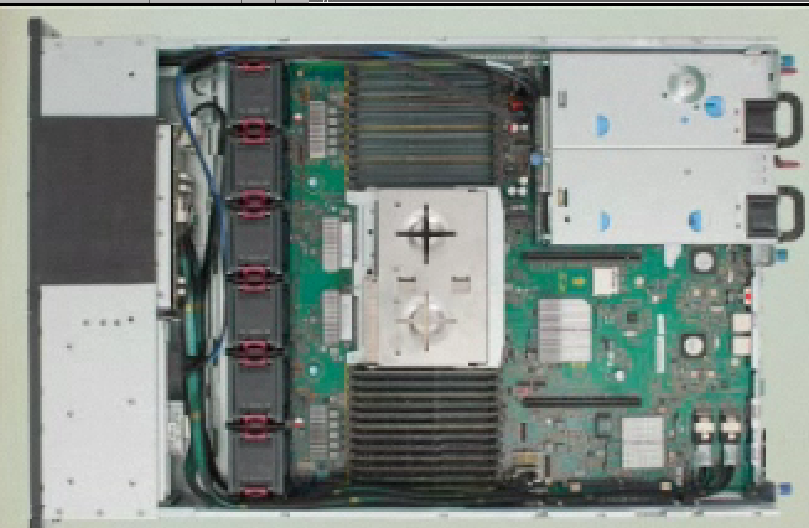 HP DL385 G7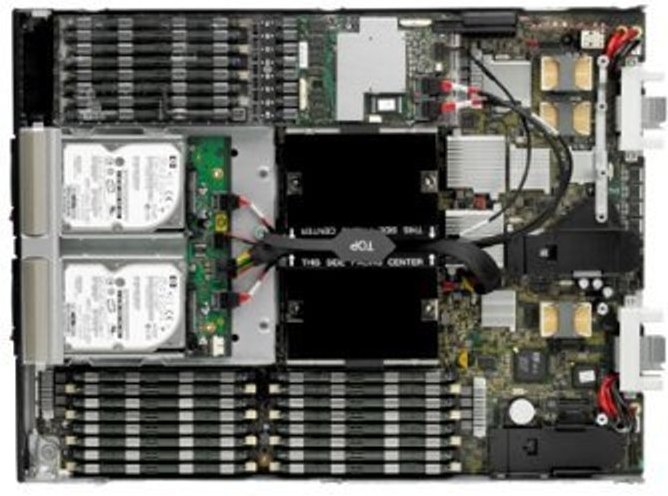 HP BL685c G7 - I can understand why they couldn't fit 48 DIMMs on this blade(Note: two of the CPUs are under the hard disks)!

HP BL465c G7 - again, really no space for 24 DIMMs ! (damnit)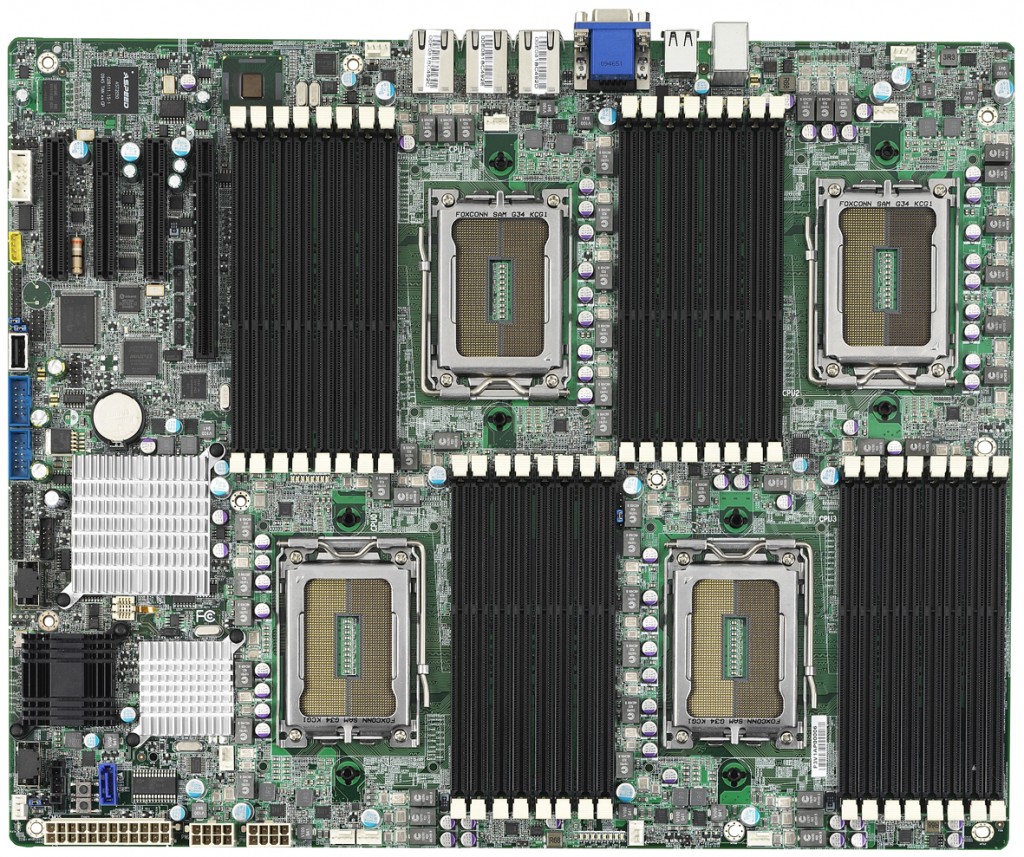 Tyan Quad Socket Opteron 6100 motherboard, tight on space, guess the form factor doesn't cut it.

Twelve cores not enough? Well you'll be able to drop Opteron 6200 16-core CPUs into these systems in the not too distant future.
Ok maybe that's not all I want, but it's a good start.
I got a new laptop recently, a Toshiba Tecra A11, really nice laptop. A couple of jobs ago I had a Toshiba Tecra M5 and liked it a lot, it had a couple glitches with Linux but for the most part it worked well. The Tecra A11 by contrast, no glitches with Linux, at least not yet. I've been using it about three weeks now, everything from wireless, to audio, to 3D,  microphone(first time I've ever used a microphone in linux, first time in easily ten years I've used a microphone on a PC period), and even webcam worked. And most importantly, suspend/resume has been 100% reliable. Really nice to see. It is certified with Ubuntu 10.04 64-bit which is what I'm running.
But that's not really what this post is about, I wasn't expecting it, so didn't look for it, but was overjoyed when I looked and saw that this brand new business laptop had a DB9 serial port, a REAL serial port! Woohoo! I mean my M5 had one too and that was great, I just thought Toshiba had jumped on the train of let's get rid of serial ports.

What a sight to see. I mean what Linux/Unix/Network geek in their right mind can get by without a serial port? Yeah I know you've been able to get those piece of crap USB serial adapters for some time, but I'll take a DB9 any day! Especially when my favorite network gear uses native DB9 on their stuff too.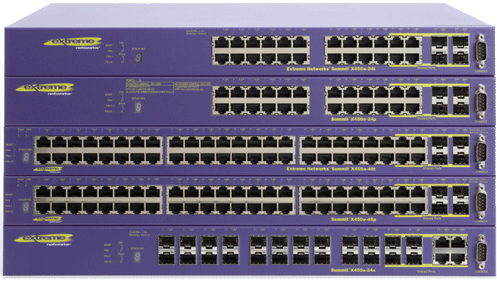 (Sorry couldn't resist getting some purple in there, not enough color on this blog)
I was a fan of the IBM Thinkpad T-series for the longest time, until Lenovo bought them, was introduced to Toshiba a few years ago and they are by far my favorite laptop. If it's going to be my main machine for work, then it's gotta be something good. The Tecra line is it, the new T series for me.
Laptop specs:
Intel® Core™ i7-620M Processor 2.66 GHz (3.33 GHz with Turbo Boost Technology), 4MB Cache,
Genuine Windows® XP Professional, SP3 with Windows® 7 Professional Recovery Media,
8GB DDR3 1066MHz SDRAM (4096MBx2)
320GB HDD (7200rpm, Serial ATA),
Nvidia® NVS™ 2100M with 512MB DDR3
Keyboard without 10-key numeric pad (black)
15.6" Diagonal Widescreen HD+ (1600x900) TFT LCD display,
Dual Point pointing device (Accupoint + Touchpad) and Media Control Buttons
Integrated Webcam and Microphone
Bluetooth® Version 2.1 +EDR
Toshiba 4-Year On-Site Repair + 4th Year Extended Service Plan
Customized pretty good they built it special for me! Mainly the "non standard" but "reccomended" keyboard(and custom matte LCD I hate the reflective screens). At first I was kind of upset they only offered ground shipping, I would be willing to pay more for faster shipping, but turns out it wasn't ground after all, and they shipped it directly from China. Once it shipped it got here in about 4 days I think, through Alaska, then somewhere out midwest at which point I thought it was going to be put on a truck and driven back to Seattle only to find it hopped on another plane and flew to me instead.
Beam me up!
Damn those folks at VMware..
Anyways I was browsing around this afternoon looking around at things and while I suppose I shouldn't be I was surprised to see that the new storage VAAI APIs are only available to people running Enterprise or Enterprise Plus licensing.
I think at least the block level hardware based locking for VMFS should be available to all versions of vSphere, after all VMware is offloading the work to a 3rd party product!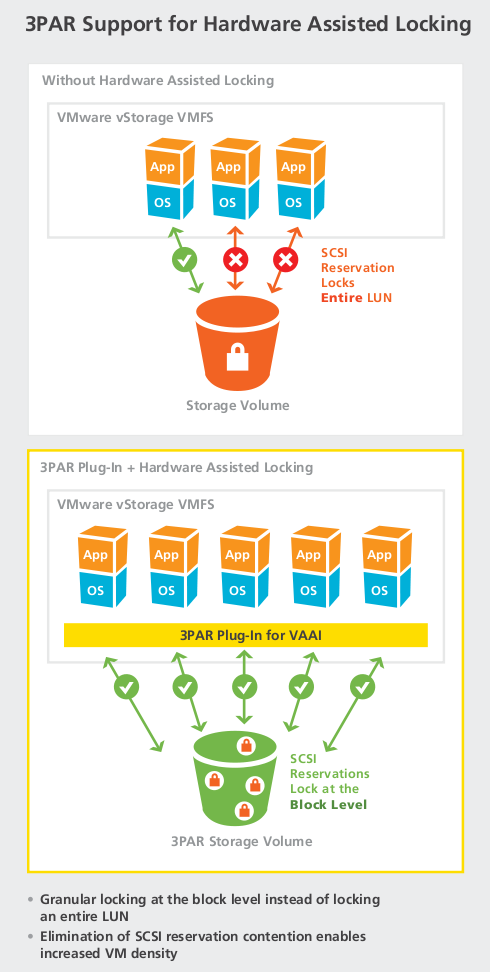 VAAI certainly looks like it offers some really useful capabiltiies, from the documentation on the 3PAR VAAI plugin (which is free) here are the highlights:
Hardware Assisted Locking is a new VMware vSphere storage feature designed to significantly reduce impediments to VM reliability and performance by locking storage at the block level instead of the logical unit number (LUN) level, which dramatically reduces SCSI reservation contentions. This new capability enables greater VM scalability without compromising performance or reliability. In addition, with the 3PAR Gen3 ASIC, metadata comparisons are executed in silicon, further improving performance in the largest, most demanding VMware vSphere and desktop virtualization environments.
The 3PAR Plug-In for VAAI works with the new VMware vSphere Block Zero feature to offload large, block-level write operations of zeros from virtual servers to the InServ array, boosting efficiency during several common VMware vSphere operations— including provisioning VMs from Templates and allocating new file blocks for thin provisioned virtual disks. Adding further efficiency benefits, the 3PAR Gen3 ASIC with built-in zero-detection capability prevents the bulk zero writes from ever being written to disk, so no actual space is allocated. As a result, with the 3PAR Plug-In for VAAI and the 3PAR Gen3 ASIC, these repetitive write operations now have "zero cost" to valuable server, storage, and network resources—enabling organizations to increase both VM density and performance.
The 3PAR Plug-In for VAAI adds support for the new VMware vSphere Full Copy feature to dramatically improve the agility of enterprise and cloud datacenters by enabling rapid VM deployment, expedited cloning, and faster Storage vMotion operations. These administrative tasks are now performed in half the time. The 3PAR plug-in not only leverages the built-in performance and efficiency advantages of the InServ platform, but also frees up critical physical server and network resources. With the use of 3PAR Thin Persistence and the 3PAR Gen3 ASIC to remove duplicated zeroed data, data copies become more efficient as well.
Cool stuff. I'll tell you what. I really never had all that much interest in storage until I started using 3PAR about 3 and a half years ago. I mean I've spread my skills pretty broadly over the past decade, and I only have so much time to do stuff.
About five years ago some co-workers tried to get me excited about NetApp, though for some reason I never could get too excited about their stuff, sure it has tons of features which is nice, though the core architectural limitations of the platform (from a spinning rust perspective at least) I guess is what kept me away from them for the most part. If you really like NetApp, put a V-series in front of a 3PAR and watch it scream. I know of a few 3PAR/NetApp users that are outright refusing to entertain the option of running NetApp storage, they like the NAS, and keep the V-series but the back end doesn't perform.
On the topic of VMFS locking - I keep seeing folks pimping the NFS route attack the VMFS locking as if there was no locking in NFS with vSphere. I'm sure prior to block level locking the NFS file level locking (assuming it is file level) is more efficient than LUN level. Though to be honest I've never encountered issues with SCSI reservations in the past few years I've been using VMFS. Probably because of how I use it. I don't do a lot of activities that trigger reservations short of writing data.
Another graphic which I thought was kind of funny, is the current  Gartner group "magic quadrant", someone posted a link to it for VMware in a somewhat recent post, myself I don't rely on Gartner but I did find the lop sidedness of the situation for VMware quite amusing -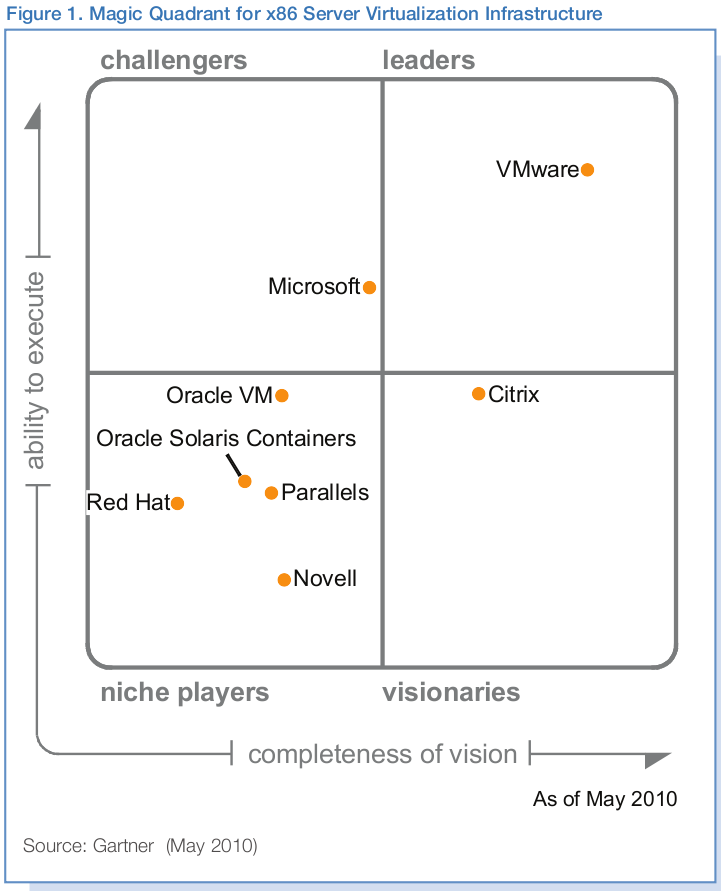 I've been using VMware since before 1.0, I still have my VMware 1.0.2 CD for Linux. I deployed VMware GSX to production for an e-commerce site in 2004, I've been using it for a while, I didn't start using ESX until 3.0 came out(from what I've read about the capabiltiies of previous versions I'm kinda glad I skipped them

). It's got to be the most solid piece of software I've ever used, besides Oracle I suppose. I mean I really, honestly can not remember it ever crashing. I'm sure it has, but it's been so rare that I have no memory of it. It's not flawless by any means, but it's solid. And VMware has done a lot to build up my loyalty to them over the past, what is it now eleven years? Like most everyone else at the time, I had no idea that we'd be doing the stuff with virtualization today that we are back then.
I've kept my eyes on other hypervisors as they come around, though even now none of the rest look very compelling. About two and a half years ago my new boss at the time was wanting to cut costs, and was trying to pressure me into trying the "free" Xen that came with CentOS at the time. He figured a hypervisor is a hypervisor. Well it's not. I refused. Eventually I left the company and my two esteemed colleges were forced into trying it after I left(hey Dave and Tycen!) they worked on it for a month before giving up and going back to VMware. What a waste of time..
I remember Tycen at about the same time being pretty excited about Hyper-V. Well at a position he recently held he got to see Hyper-V in all it's glory, and well he was happy to get out of that position and not having to use Hyper-V anymore.
Though I do think KVM has a chance, I think it's too early to use it for anything too serious at this point, though I'm sure that's not stopping tons of people from doing it anyways, just like it didn't stop me from running production on GSX way back when. But I suspect by the time vSphere 5.0 comes out, which I'm just guessing here will be in the 2012 time frame, KVM as a hypervisor will be solid enough to use in a serious capacity. VMware will of course have a massive edge on management tools and fancy add ons, but not everyone needs all that stuff (me included). I'm perfectly happy with just vSphere and vCenter (be even happier if there was a Linux version of course).
I can't help but laugh at the grand claims Red Hat is making for KVM scalability though. Sorry I just don't buy that the Linux kernel itself can reach such heights and be solid & scalable, yet alone a hypervisor running on top of Linux (and before anyone asks, NO ESX does NOT run on Linux).
I love Linux, I use it every day on my servers and my desktops and laptops, have been for more than a decade. Despite all the defectors to the Mac platform I still use Linux

(I actually honestly tried a MacBook Pro for a couple weeks recently and just couldn't get it to a usable state).
Just because the system boots with X number of CPUs and X amount of memory doesn't mean it's going to be able to effectively scale to use it right. I'm sure Linux will get there some day, but believe it is a ways off.